Ladies and gentlemen drag racers, we are sad to inform you that the world now has one less Dodge Demon. And that's because an example of the Mopar king caught fire while being driven on the road.
The incident seems to have taken place on Sunday and you can see the 840 horsepower Challenger burning in the media at the bottom of the page.
Now, the fire of any performance car is a reason for aficionados to fret, but, with this being a
Demon
, we have at least one extra reason for agitation. And that comes from the limited availability of the thing - keep in mind that Dodge only built 3,300 units of the vehicle.
Fortunately, it looks like nobody was injured in the incident. As for the toll the fire took on the car, the second Instagram post below allows us to see the consequences of the incident.
As we can notice in these images, which were reportedly snapped by an emergency responder who arrived at the scene of the fire, the flames didn't entirely consume the vehicle, as it sometimes happens in such dreadful situations (for instance,
here
's a Porsche 911 GT3 turning to ashes during a sting on the Nurburgring).
So, what caused the fire?
Well, according to Internet gossip, the owner mentioned that the transmission had failed, with this leading to a tranny fluid leakage. And once the said fluid reached the hot exhaust, this caught on fire, causing the disaster that brought us here.
Regardless, the exact cause of the fire is under investigation. Of course, any potential mods installed on the car could've also made a difference, subjecting the eight-speed automatic gearbox to extra stress.
Forum chat mentions this Demon had recently been serviced and the investigators certainly need to zoom in on the matter.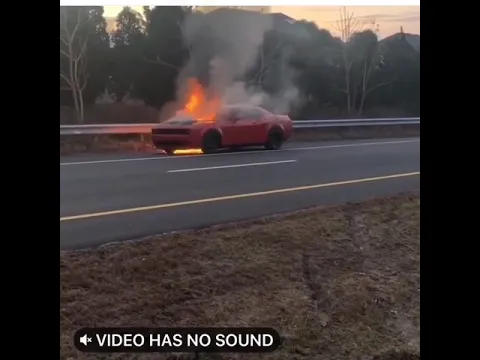 Rip to the demon.. I am sure you've seen pictures and videos everywhere, so here is what happened.. due to the transmission grenading the tranny fluid ignited and burnt the car to the ground.. Update on the demon: the cause of the fire is under investigation
Poor @dodgeofficial Demon burning to the ground due to a transmission failure causing it to catch fire, and burn to the ground. Thanks to the officer on the scene for the photos. 👹