There is something about flat deserts, otherwise known as salt flats or salt pans, which pretty much brings out the speed junkies in everyone, or maybe that's just happening to people who are already driving junkies in the first place.
The following videos are depicting such people - a group of friends which share a passion for torque-monsters that scare little children with their exhaust sounds.
Not long ago, this group of friends gathered and took a trip to the El Mirage Dry Lake, in California, where they pretty much went ballistic on their high-powered cars and left a reasonable amount of tire tracks on the surface of the desert.
One of the cars filmed by YouTube user DLMphotos is
the 900+ WHP Mercedes-Benz CLS 63 AMG by Weistec
which we showed you a few days ago, whose exhaust sounds were probably heard for miles and miles on the dry lake.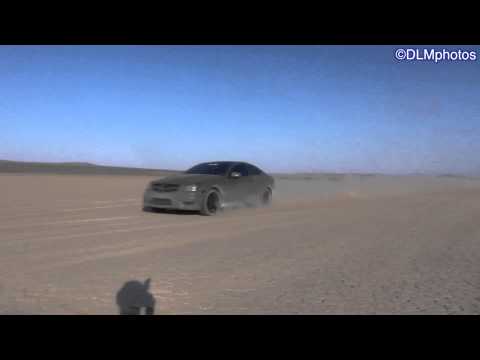 There are plenty of high-powered cars in the footage, but one which really caught our eyes (and ears) is the military green Mercedes-Benz C 63
AMG
Coupe that does a number of burnouts and powerslides in the second video.
We say this not because it looks like it's a vehicular project that escaped Area 51 which, coincidentally, is also based on a dry lake, but mainly because it sounds like something that was spawned right out of hell.
All in all, a desert dry lake with no speed limits is a pretty nice place to spend a day off, away from all the constrictions and stress of everyday life.