In December, the German company decided to publish the entire on-board video of the record-breaking lap on YouTube and Vimeo. The new M4 GTS is the fastest road-going BMW ever built and the video shows just how quick this car is on the legedary Nürburgring-Nordschleife, when in the right hands.
The time accomplished by the M4 GTS on the German track is excellent, to say the least, making this version of the M-car one of the top 40 quickest vehicles in the world on that particular stretch of asphalt.
It even managed to beat cars like the Lamborghini Murcielago, Mercedes-Benz SLR McLaren, Lexus LF-A, Koenigsegg CCX and the Ferrari 458 Italia. Suddenly, the fastest road-going BMW in the world is a big title, right?
In case you happened to forget the specs, we'll inform you that the BMW M4 GTS has a six-cylinder turbo engine that puts out 500
HP
and 600 Nm (442 lb-ft) of torque. The unit is based on the one found in the standard M3/M4 but features several improvements to achieve a higher power level. Among these, there is an innovative water injection system that lets the engine use aggressive timing and a higher boost to develop more power without the risk of knocking.
While being significantly more powerful than an M4, the GTS version of the German performance coupe doesn't suffer a decrease in fuel economy or an increase in emissions. Therefore, the car has a
NEDC
fuel economy rating of 8.3 liters for 100 kilometers (that's 34 mpg imp), which translates into a CO2 rating of 194 grams/kilometer.
The BMW M4 GTS is only available with a seven-speed
DCT
twin-clutch transmission. The unit was re-tuned for the engine's increased power level and features BMW's Drivelogic shift programs and a Launch Control function.
With English commentary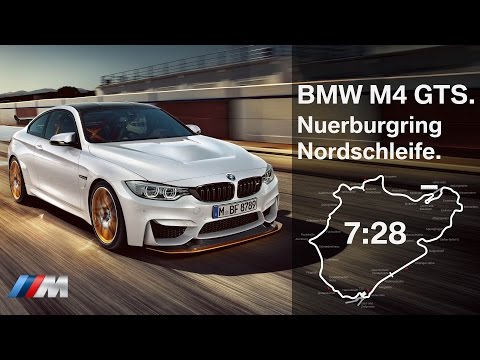 Without commentary