The Land Down Under seems to be a lot different from the rest of the world when it comes to motorcycles. Bikes and riders alike, what comes from Australia is a tad weird and highly competitive, even if at a scale that isn't always enough to make a definitive change in the world.
If you thought the Britten was crazy, prepare to meet Aurora Hellfire OZ26, a superbike that will put to shame even the most brutal motorcycles out there. Coming from Oz, the V8 engine that powers it should not surprise anyone, but even be a little on the "should have seen this coming" side.
The power plant bringing the Hellfire to life is a 2,575cc liquid-cooled
DOHC
V8 with 4-valves-per-cylinder. Revved at 9,500 rpm, the lump produces a whopping 417 horsepower, while the 319 Nm (235 lb-ft) of torque at 7,000 rpm should be enough to smoke pretty much anything this monster stacks against.
Hellfire OZ26 is the creation of an ex-racing engineer
The OZ26 is the brainchild of Vincent Messina, an Australian engineer with superbike and sidecar racing background, so it's easy to understand how this bike came into being. Based in Thailand, Messina hopes to find enough funds to build a limited run of Aurora Hellfires.
Messina went for a Hossack front suspension and Ohlins shock, complemented by a multi-link setup for the rear, with the anti-dive and anti-squat chassis properties being first on the priority list.
There's a ton of electronic systems integrated in the Aurora Hellfire OZ26, with ride-by-wire, 10-lever traction control, riding modes (sport, touring, wet, and custom), a 5-speed transmission that can be operated by foot or bar buttons, and Brembo GP4RX four-piston radial calipers squeezing carbon-ceramic rotors. The top speed reaches north of 340 km/h (211 mph).
No acceleration figures have been provided so far for the 265 kg (585 lb, dry) bike, but looking at the specs we can expect this beast to be quite vicious on both road and track.
Tim Cameron
is the designer of the OZ26, so the radical and menacing looks are perfectly explainable. We could do just well without the music in this promo, but luckily there is a dyno video, too!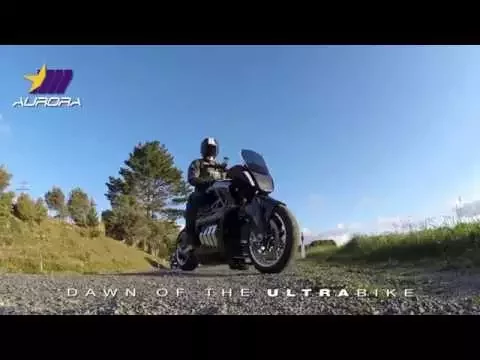 Dyno run