Some of you may not remember this, but back in the late 1980s and early 1990s, one of the most used marketing gimmicks for selling cars was through stickers. Really, it was pretty much like a sticker frenzy, not to mention that "special edition" versions of otherwise almost stock model were all the rage.
Car makers were apparently under the impression that buyers would flock to dealerships the second they saw a car that had a "turbo, GTI,
ABS
or
SRS
Airbags" sticker on the rear windshield. Almost every manufacturer was responsible at some point for marketing one of its technologies through the use of very visible sticker on its cars.
Most of them were advertising new and innovative (at the time) features like standard anti-lock braking system or airbags - two safety systems that are now present in over 99% of all new cars sold worldwide.
Some of you probably already know how both technologies began to be fitted in standard in German cars, starting with
Mercedes-Benz
in the early 1980s, but in a little over a decade almost each of its rivals had SRS (Supplemental Restraint Systems) devices that used the same basic idea: you crash with the seatbelt on, a pyrotechnic system deploys a rapidly inflating cushion, which is the actual airbag, and in theory your head doesn't smack against the steering wheel.
That was not the case with
Audi
, who didn't offer airbags in its cars on a similar scale as its competitors until the mid-1990s. Up until 1994 or so, on the rear windshield of almost every upscale Audi you could check out a sticker that read either "quattro" or "procon ten," a rather complicated crash safety system that was used by Ingolstadt instead of airbags.
You would think that Audi was simply late to the party in developing airbags for its cars, but the truth is entirely different actually. It all started in 1970, when Audi's first crash testing hall was built and car accidents began to receive a higher amount of attention from the German car maker. A number of engineers began studying frontal car impacts and how passengers should be better protected in this unlucky driving scenario.
Among them was an engineer named Elmar Vollmer, who is probably the key person responsible for the development of the "procon-ten" safety system, not to mention having been involved in all aspects of safety research at Audi until the 1990s. He also directed the development of better structural design for improved crash energy dissipation and later on the introduction of airbags in Audis on a large scale.
Procon-Ten actually stands for "Programmed Contraction and Tension", and the reasoning behind its creation started from Audi engineers blaming the steering wheel and steering column for most fatal frontal accidents.
While other carmakers were developing airbags as a supplemental restraint system that was integrated with the seatbelts, Audi went on an entirely different path: instead of popping out a "soft" air cushion between the driver and the steering wheel in the event of a crash, it simply got the steering wheel out of the way. No, it wasn't anything magical, although without seeing or knowing about all the hidden elements that made it work it probably looked a bit unsettling.
In short, during a frontal collision, the steering wheel was automatically pulled back, away from the driver, while the front seatbelts tensioned and kept the front passengers away from the dashboard. A rather complicated system of heavy duty steel cables and deflection pulleys were installed around the engine, connecting the steering column, front seatbelts and the actual engine.
Since Audi was mounting its engines longitudinally and as close to the front bumper as possible ("in front of the headlights," to quote Jeremy Clarkson), the "no-airbag system" worked even better than it should have.
In the event that the car would crash into something, the engine would be one the first elements to be struck and pushed backward, toward the cabin. Since its rear was linked to those thick steel cables, its movement during the crash would actually pull the steering wheel column in the opposite direction, while also tensioning the front seatbelts. You can check out this amusing old commercial to see how Audi marketed at the time. It's in German, but you'll get it even if you don't speak Goethe's language.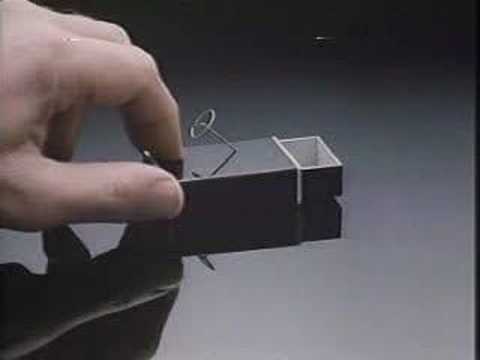 Introduced for the first time in 1986, after many years in which Vollmer had also studied real-world crashes in order to perfect it, Procon-Ten was the only system of its kind and nothing even remotely similar has been used by Audi or any other carmakers since then. You could find it in the Audi 100 and 200, the V8, but it was also used certain Audi 80 and 90 models.
The last cars to feature it were built in 1994, after which Audi finally switched to airbags and Procon-Ten was discontinued for good. Apparently, despite the good results, the system weighed quite a lot and it was a bit less reliable than what the airbags had become.
With the advent of lighter and cheaper materials upon us, there is a (small) possibility that we may see something similar from Audi in the future, especially since the Ingolstadt carmaker still has the "procon-ten" trademark registered. Those who have experienced a nasty frontal impact in their cars will know that the airbag is not exactly fluffy and can even leave you with a broken nose, despite saving your life.