The following subject would probably make a good side story in the upcoming James Bond movie and, since its not nowhere near April 1st, you can rest assured that the information is not part of an elaborate joke.
In short, an armored Mercedes-Benz CL from South Africa was literally shot by a Volkswagen CrossPolo that had been modified in a very similar manner to James Bond's Aston Martin DB5.
Obviously, the target for the odd-shooting wasn't the German coupe but its owner, shady businessman Radovan Krejcir. The Czech expat seems to have quite a lot of enemies in South Africa and has been linked to a number of unsolved murders, including that of Cape Town mob boss Cyril Beeka and Uwe Gemballa – of Porsche tuning fame.
The red CrossPolo had been modified in a rather ingenious way, with twelve gun barrels hidden behind the rear license plate. The assailant(s) had parked the VW with the back towards Krejcir's Mercedes, waiting for the perfect moment to shoot him via a remote control. We don't know which company was in charge of armoring the blacked-out Mercedes-Benz CL, but they sure did a good job looking at the footage.
More recent South African reports say that an ex-employee of Radovan Krejcir has been arrested and charged for the assault, although the man was already in custody during the attack.
You can see the aftermath video of the bizzare event and an interview with Radovan Krejcir in the video below.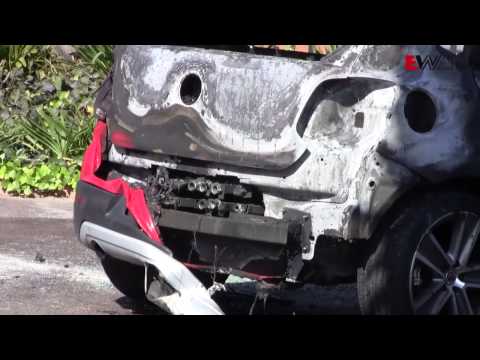 Story via
Eye Witness News