People who have no idea about who Aaron Gwin is and what happened to him earlier this year in Austria have almost zero chances to understand why this video is funny. However, because they deserve to know the whole story, I attached the Austrian race movie after the jump.
Long story short, Gwin is an American downhiller who managed to win a race in Austria at Leogang after his chain broke as he was out of the gate. Aaron Gwin has had, just like many other downhillers, numerous other problems with his bike, from malfunctioning brakes to tires flying off the rim and so on.
However, the Leogang race is one the world remembers because he actually WON there, despite the missing chain.
Funny original commentators replicated in the KTM video
Now, you've probably understood that this KTM video is not exactly an official commercial for the RC390, but a great way to have fun. Of course, with the strong bonds between KTM and Red Bull (both Austrian brands) and their commitment to extreme sports, the whole thing was a lot easier.
Now, if you take your time to watch Gwin's original chainless downhill video, you'll quickly understand why the commentator in the RC390 one has such an unnerving voice. The whole RC390 video only replicates the original footage... in a more annoying way, I'll give you that.
Don't hurry to replicate Gwin's RC390 stunt and DON'T remove the chain of a bike prior to heading down the hill. This is all a joke, and if you watch the video attentively, you can see that the KTM does indeed have a chain. Riding a bike without the rear wheel connected to the transmission is dangerous.
And if you don't believe me when I say the RC390 had a perfectly working chain, check out the screenshots below.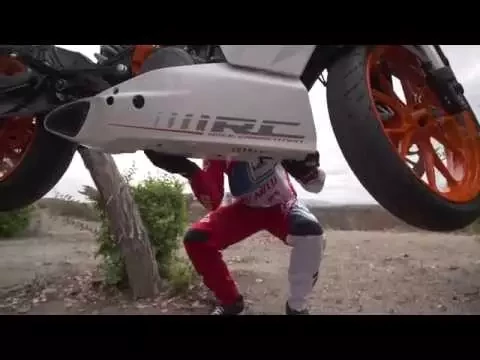 And here's the real no-chain trick!