The DSR is the second new addition to Zero Motorcycles' 2016 range, a bike derived from the DS model, as you've most likely guessed by now. Zero amped up the old DS, so the R suffix is not just a shallow marketing move.
According to Zero, the new DSR machine delivers 56% more torque and 25% more power, putting more grunt at the disposal of bold riders who tackle the trails and are not afraid to leave the asphalt.
The bike's prowess is also enhanced by other changes the machine shares with the
new Zero FXS
. This means that the 2016 Zero DSR also comes with the new Showa suspensions and the Bosch
ABS
.
Zero DSR can expand its 13 kWh battery with a 2.8 kWk Power Tank
DSR comes standard with a 13
kWh
battery pack that can last for 147 miles (237 km) in the city. Still, an optional Power Tank can expand the capacity a little and extend the range to 179 miles (288 km).
The Z-Force motor is equipped with a 600 amp, 3-phase controller and can deliver 67 hp @ 4,000 rpm, with a peak torque of 106 ft-lb (144 Nm), figures that remain unchanged even if you install the Power Tank. The batteries' life cycle should effortlessly last at least as long as you'll be using the bike, with more than half a million kilometers to them being more than feasible. In fact, Zero claims that they will still be north of 80% capacity even after 331,000 miles (533,000 km).
Zero DSR retains the Poly Chain GT Carbon belt and the clutchless direct drive and the bike can do 0-62 mph (0-100 km/h) in 3.9 seconds. For brief periods, the DSR can reach a top speed of 98 mph (158 km/h), but the sustained top speed is only 90 mph (145 km/h).
The standard DSR weighs 419 lb (190 kg), while the Power Tank adds a small bulk to 463 lb (210 kg). The price tags in the US read $15,995 and $18,669, respectively. Still, because of the cast wheels, you should exercise off-roading with care, lest you end up like this
brand new BMW R1200GS
.
2016 Zero DSR in action with music soundtrack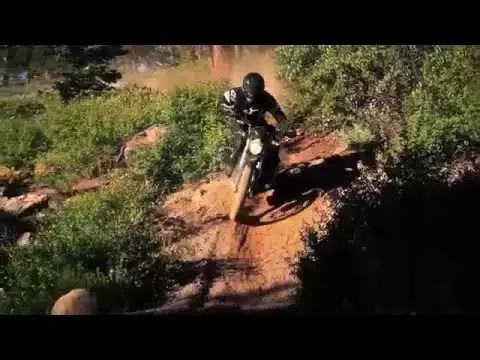 2016 Zero DSR in action with motor sound only