The
2016 Volvo S90
, the Swedish brand's new flagship sedan, is scheduled for a public debut at the 2016 Detroit Auto Show.
Initially, the Swedish brand planned to keep the specs of its new S90 for itself until January 2016, but it has since reversed that decision, at least when ti comes to the European market.
The new S90 has a length of 4,963 millimeters (195.4 in), a width of 1,890 mm (74.4 in) and a height of 1,443 mm (56.8 in). Its wheelbase is 2,941 mm long, and its luggage compartment offers a capacity of 500 liters. The weight of the new S90 is quoted somewhere between 1,800 and 2,150 kilograms, but these figures might not be final.
Sweden's new pride and joy will be available with a choice of two gasoline and two diesel engines, along with an all-wheel drive hybrid option.
The hybrid version of the new S90 is called T8 Twin Engine and it comes standard with all-wheel-drive. It features an inline four-cylinder turbo engine that puts out 320
HP
and 400 Nm. An electric engine capable of 87 HP and 240 Nm is paired with the gasoline unit.
The only available transmission is an eight-speed automatic. The theoretical electric range of this version of the S90 exceeds 45 kilometers, while the CO2 emissions are rated at 44 grams/kilometer. That value amounts to an approximate consumption of 1.9 liters of gas for every 100 kilometers driven.
Volvo uses the T8's combustion engine for the T6 version of the S90 as well. Codenamed B4204T27, its output is quoted at 320 HP and 400 Nm. Like the T8, it has all-wheel-drive and an eight-speed automatic transmission. The expected 0-100 km/h time for this version is 5.8 seconds while the theoretical average fuel consumption is rated at 7.3 litres/100 kilometers.
Other gasoline engines might be offered in the S90 range upon launch. Until then, let's talk about the diesels in this range. For now, the entry-level diesel is called D4 and supplies 190 HP at 4,250 rpm and a maximum torque rating of 400 Nm between 1,750 and 2,500 rpm. This version of the S90 is fitted with a six-speed manual gearbox and comes with front-wheel-drive. It has a 0-100 km/h time of 8.2 seconds and an average consumption of 4.1 liters/ 100 km.
The D5
AWD
is the engine that tops the diesel range of the all-new Volvo S90. The four-cylinder engine is fitted with a special anti-lag system called Power Pulse. Volvo's Power Pulse is based on an air compressor which can eliminate the typical lag of turbocharged engines when hard accelerations from low speeds is requested. The D5 unit is good for 235 HP and 480 Nm, suitable for a 0-100 km/h in 7.3 seconds and a top speed of 230 km/h. The average theoretical consumption is of 5.1 liters/100 kilometers.
Volvo S90 Official Showcase Video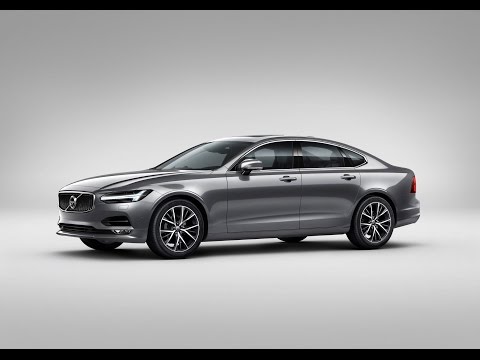 Power Pulse Technology Explained