Better performance than the Chevrolet Camaro Z/28 track monster, a 5.2-liter naturally aspirated Voodoo V8 lump, a beastly 500-plus horsepower, 7-spoke wheels made from carbon fiber, no rear seats and a huge rear wing. The all-new Shelby GT350R Mustang is as mean as they come, which is a tad funny though.
That's because VIN#001 of the extreme 'Stang model has been donated to JDRF, the country's leading global organization funding type 1 diabetes research, with the vehicle slated to be auctioned at Barrett-Jackson's Scottsdale auction event, with all benefits going to JDRF. It's funny how the most rough and ready N/A Mustang yet is a softie deep down inside thanks to the proceeds it will support the JDRF with.
Slated to go under the hammer later this Saturday, the winning bidder of the most track-ready road-going Mustang ever built will be able to choose from any available colors and packages. Furthermore, team members involved in the design and development of the Shelby GT350R Mustang will also sign the car in appreciation of the donations to JDRF.
"JDRF is privileged to work with Ford, and we are extremely grateful for the generous support from Ford and its employees through the years,"
declared Mr. John Brady, the JDRF's chairman. Raj Nair, FoMoCo's vice prez of product development added:
"We are thrilled to donate the first retail production Shelby GT350R to JDRF for auction,"
and the man's got a point if you think about it.
Last year, the first-ever 2015 Dodge Challenger SRT Hellcat has sold for
a record
amount of green dollar bills, the most expensive automobile ever auctioned by Barrett-Jackson. That's why we have a gut feeling lot No. 3008, selling at no reserve, will manage to raise a tremendous amount of ka-ching! for charity.
UPDATE: VIN#001 sold for a cool $1,000,000.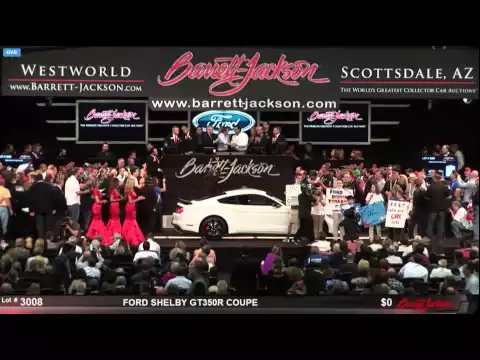 An amazing, amazing #BarrettJackson moment! Over $1 Million goes to the @JDRF! pic.twitter.com/khnzgimC5L

— Barrett-Jackson (@Barrett_Jackson) January 18, 2015