Remember the contraption you used when passing your driver's test? Well, the adventure we're here to showcase involves a 17-year-old who visited the DMV for the purpose mentioned above in a (drum rolls) Bugatti Chiron.
The shenanigan took place in California earlier this month. Matt Spector, the young aficionado in question, didn't want to do anything special for his driving test. No really, he didn't. After all, his family owns a collection of hypercars that includes no less than three Bugattis. So he simply jumped behind the wheel of one and went to the DMV.
At least within the confinement of the Molsheim range, his choice was obvious - the Chiron is even easier to handle than the Veyron, while the Vision Gran Turismo isn't exactly fit for the job - if you're not already familiar with this concept car, check out the video and you'll understand.
Speaking of the Vision GT, we're not sure the example resting in this Cali collection is the only one ever sold to a customer, as we're also
aware
of a unit resting in an Arab world garage.
Returning to the test adventure we have here, Matt did lose one point during his evaluation and it all involved... jerky acceleration. And yes, the test was caught on camera, with The Stradman (the YouTuber behind the stunt) claiming that the DMV wasn't aware of the GoPro camera mounted inside the quad-turbo, 1,500 horsepower monster that is the
Bugatti Chiron.
As you can imagine, the test wasn't without its giggles, even though things were obviously restrained. Actually, we didn't think the Chiron was able to accelerate so delicately...
Now, if you happen to be curious about this teen's life, you can check out more details on his Instagram - zoom in on the post below and you'll be able to do just that.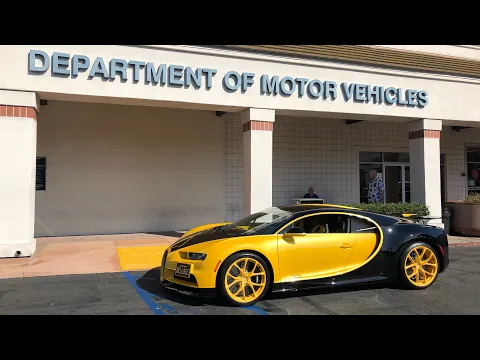 Licensed😊 (yes I took my license test in a Bugatti Chiron, and passed)